Since implementing BeerBoard's SmartBar technology, WingHouse Bar + Grill is targeting a brand savings of $400-$425K in draft COGS savings.
WingHouse operates 24 locations across the State of Florida. In partnering with BeerBoard, WingHouse has experienced great success and, most importantly, improved top and bottom lines.
Almost a year since leading the implementation of SmartBar, we caught up with the brand's President & CEO, Dennis Prescott. He shared his insights on where the brand was prior to starting with BeerBoard and the indelible impact the technology had on the retailer's product management, policies and team performance.
Before BeerBoard
"Prior to starting with BeerBoard, our COGS was hovering between 31-33%," said Prescott. "It was a combination of incorrect pricing, faulty draft systems and incorrect pouring, and, of course, shrinkage."
That is where, under Prescott's leadership, WingHouse turned to BeerBoard, which provides unprecedented data for a retailer's velocity, performance and return within the draft beer category. Through its patented SmartBar platform, BeerBoard generates real-time data, trend-driven analytics and integrated inventory/ordering for bars and restaurants.
According to Prescott, there were varying factors driving up WingHouse's COGS. "Last football season, we offered a domestic pint special all day Sat and Sun," he said. "That grew our Bar Mix, but had a negative effect on our draft COGs. Also, on April 1st, we took a $5.00 per half-keg increase on our domestic kegs, which is the largest percentage of our draft sales."
Prescott and his team made the conscious decision to avoid passing that increase onto the consumer. "WingHouse is a brand driven through its alcohol sales, and specifically draft beer. We have always been value driven and will continue to do so," he noted. "We felt there were other ways to recoup those expenses, and BeerBoard was a huge driver in that."
Since Implementing BeerBoard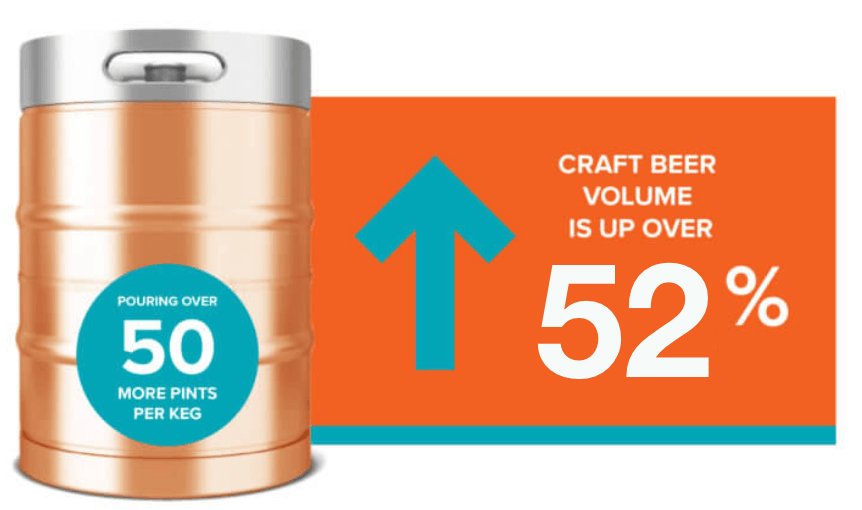 "When we first partnered with BeerBoard, we started with two test stores, both of which are our higher-volume stores," said Prescott. "We immediately engaged with the SmartBar technology and stayed on top of it. We learned a lot, quickly."
From the insights generated from their location data, Prescott and his team discovered the pilot stores were experiencing issues from a number of variables, including outdated equipment, underperforming glycol and faulty tap handles. Once those issues were resolved, attention from the WingHouse leadership dialed up to another level.
"With insights in-hand, we were able to turn our focus to policies and team performance, gearing them around accountability," said Prescott. "We were able to quickly pinpoint where we had issues. With BeerBoard, there is no room for excuses. We made process improvements and the results continued to build and made a case. BeerBoard was a big part of that."
The equipment and policy changes led to a reduction in COGS to 23-25%, down from the original 31-33%. The retailer also tested real-time printed menus, which drove an immediate increase in premium and craft sales. As a result, craft beer sales were up 52% and the brand was claiming over 50 more pints per keg.
The Impact for WingHouse
WingHouse has now installed SmartBar technology at each of its 24 locations.
"Seeing significant results and getting costs in line for our first two stores, it was a no-brainer to say yes to rolling out this platform system-wide," Prescott said. "Since working with BeerBoard, compared to the days of old, we are targeting a brand savings across 24 units of $400-$425K in draft COGS savings.
"With the data from BeerBoard at our fingertips, we expect to maintain our position in the competitive set as having the draft offerings priced on the lower end of our competitors and still achieve the financial success that we are budgeting for."
#####
About BeerBoard
BeerBoard manages over $1 billion in retail draft beer sales and 45,000 products through its industry-leading data and insights platform. It works with the largest operators and brewers to help them sell more beer and make more money.
Installed at thousands of client locations, its services include SmartBar, which generates real-time insights and trend-driven analytics; BeerBoardTV, a digital consumer-facing menu display; BeerBoard Menu, automated print and website menus; and BeerBoard Mobile, a mobile application designed for consumer interaction.
BeerBoard's robust client list features high-profile independent groups and major chain operators across North America. The list includes industry leaders Buffalo Wild Wings, Hooters, Twin Peaks, Applebee's, Mellow Mushroom and BJ's Restaurant & Brewhouse. BeerBoard also partners with major brewers for data and insights, including Diageo, Lagunitas, Stone Brewing, Founders, Labatt USA, Genesee, Pyramid and Magic Hat.
BeerBoard is headquartered in Syracuse, NY, and has offices in New York City, Denver, Minneapolis and Atlanta. For more information, please visit https://beerboard.com/

About WingHouse Bar & Grill
WingHouse Bar & Grill first opened its doors over 20 years ago in Largo, Florida, where the concept to blend the spirit and camaraderie of sports with the casual atmosphere of a full-service restaurant was brought to life by NFL alum, Crawford Ker. Today, WingHouse has grown to over 25 locations that span across the state of Florida and entertains a loyal fan-base which embodies that spirit.
Its restaurants are known for their fan-friendly atmosphere where people go to watch the big game, socialize with friends — AND the World Famous WingHouse Girls who serve them. With un-matched levels of attentive hospitality and contagious energy, they are more than servers, the WingHouse Girls are an extension of the party and the concepts biggest brand ambassadors.
With wall-to-wall high-def TVs, year-round sports coverage, and over-sized entrees, WingHouse is a bar and grill that's more like a destination getaway. It's a place where sports fans can chat, chow, cheer and more importantly, kick-back and just relax. For more information, please visit https://winghouse.com/